Hello! I'm MJ, which does not stand for Michael Jordan. It stands for Mary Anne, DUH! Anyway, I'm the brains of this joint, cuz I'm mechanically inclined. When Joy wanted to get rid of Allison, I said in a mischievous way, "We could make a plan!" And because of that, Annie got the idea to send Al to Happy Dale. See? I am the brains of this organization. I'm also the looks, but I don't like to toot my own horn. Modesty prevents me from elaborating any more on my many talents, so I'll just give you the low-down on Gammy:
I'm the foundation of the Bunionion clan!

I'm da bomb!

I don't have any toys at my house, so instead I play with frozen washclothes!

I love watermelon! And cologne...but I don't eat that.

Walruses are the coolest animal (we should make a movie about us freeing the walrus named Slappy!)

I like Shane West, and Elijah Wood.

Yesterday the phone rang, and...someone...someone was...was on the other....the other end! But they hung up as soon as I answered it :-(.

Eeeerrrrr...........If you ever hear that noise, you know I'm not far away!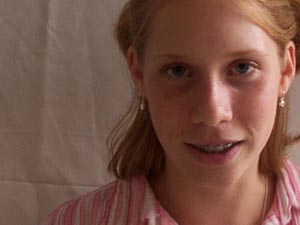 Look! Brian's nice to animals!